Published by
Project Access
on July 27, 2015 - 11:39am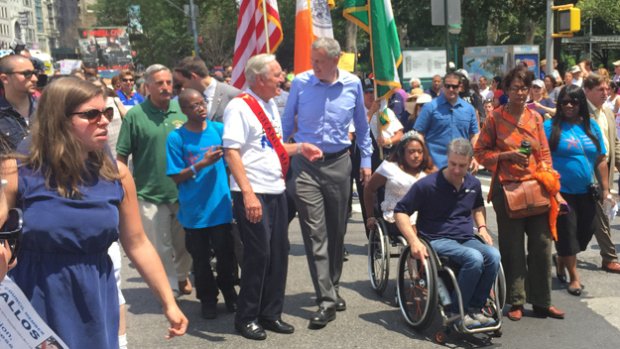 NEW YORK (CBSNewYork/AP) — New York City hosted its first parade honoring people with disabilities Sunday.
Mayor Bill de Blasio spoke to kick off the inaugural NYC Disability Pride Parade. He said he was proud of the city being a national leader in supporting rights for disabled people.
The parade route started at Manhattan's Madison Square Park and went along Broadway to Union Square Park.
NYC Hosts Its First Disability Pride Parade
disability2 NYC Hosts Its First Disability Pride Parade
wins audio logo NYC Hosts Its First Disability Pride ParadeRoger Stern reports
play
Participants used wheelchairs, canes and seeing-eye dogs.
Anomie Fatale was riding a scooter. She told WCBS 880's Peter Haskell she was there in part because of the unity.
"It's pretty powerful because it makes you realize that your struggles are not yours," Fatale said. "It's a bigger problem that you can all work through together."
Vivian from Bayside, Queens, was there with a guide dog.
NYC Hosts Its First Disability Pride Parade
parade1 NYC Hosts Its First Disability Pride Parade
880 audiographic NYC Hosts Its First Disability Pride ParadePeter Haskell reports
play
"We're able to show our pride for the way we live and how we are able to function and be full citizens of society," she told 1010 WINS' Roger Stern. "So I think it's great we actually have a parade to celebrate, first time ever."
"While we have disabilities, we are in no sense unable. … We are as capable as anyone," said Mike Schweinsburg, one of the parade's organizers.
July is designated as Disability Pride Month in honor of the 25th anniversary of the Americans with Disabilities Act that aims to guarantee equal opportunities and rights for people with disabilities.
While wheelchair-accessible buildings and transit have become more common, economic self-sufficiency is not.
"It is a blot on our national character that so many people with disabilites are unemployed," said retired U.S. Sen. Tom Harkin, who was the driving force behind the Americans with Disabilities Act and served as the parade's grand marshal.
The city has planned a monthlong series of events relating to New Yorkers with disabilities. That includes an exhibit at the Brooklyn Historical Society titled "Gaining Access: The New York City Disability Rights Movement."