Become an Activist for Access: Take the Pledge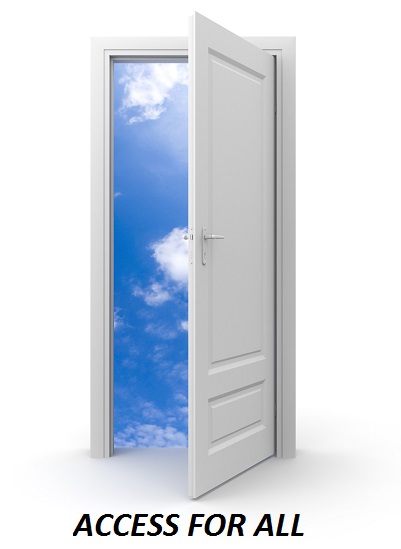 Use the classic…
"I pledge to share my voice as an individual, true to my beliefs and perspectives, and yet joining our united chorus "It's Our Time". Access for everyone, everywhere."
…or make up your own. You can try one of these examples:
Film or record yourself taking the pledge, and post it on your favorite social media network with hashtag #pa4allpledge. Encourage your colleagues, friends, and family to do the same. How will YOU live the ideal of everyone, everywhere?
Here are some tips to consider when uploading any video online.
Tips for Making "I Pledge" Videos That Rock
Keep it short, sweet and to the point.
Enough said. If you're using the wording from one of our suggested pledges, make sure you rehearse and know the words so you can say them on screen with maximum impact.
Create persuasive content.
Before shooting your video, plan out how to best present yourself and your pledge. Don't just wing it and possibly fumble your way through a halting, hesitant and shy delivery. Brainstorm with friends and pledge teammates on ways to make this pledge video a memorable, effective, informative and entertaining one.
Practice makes perfect.
Write a script then keep recording practice sessions to review with an eye to what you can do better for the best final presentation.
Communicate your passion.
"Sell" your message. Make sure your voice and body language contain all the energy, excitement and commitment you
feel for what you're pledging. Remember, no one's going to want to watch your video—or believe in your message—if it's delivered in a bored, monotone manner that lacks passion and conviction.
Grab 'em early!
To combat short attention spans, your video requires you get to the meat of your message fast. Don't waste time building up to your pledge with a long, drawn out explanation. Use the first line of your video to engage your audience.
Play to your audience.
Personalize the message to your target audience. Make it entertaining and pertinent to your viewers. Rather than just reading your pledge, how about coming up with a creative way to get your pledge across—maybe you want to sing your pledge to the tune of a current pop
hit or recite the words to a rap beat?
Act like you mean it.
Your pledge video might have a great cause and concept, but it needs an equally awesome delivery. When choosing your spokesperson, know that first impressions count. Does he or she come across as friendly, relatable, sincere? Does he or she speak with varied inflections? Does he or she "personify" the pledge? Keep it "real" by choosing someone who comes across as genuine.
Add a transcript to your YouTube videos.
Create a word document based off of what your video is pledging. Make sure to include lots of the pledge keywords for maximum SEO rankings.
Close strong.
Consider creating an end screen for the video that has a call-to-action. This will be the last memory the viewer takes away from your pledge video so make it count!
Share, share, share!
Share your video across numerous blogs and social media channels, and encourage everyone you know to do so, too. Remember, the more it's shared or goes viral, the more visibility your pledge's cause will get.
For Individuals:
Want to do more? Become a volunteer. Donate your time and energy with Project Access for All directly or with other organizations in the area. To find out more and connect with other volunteers, you can:
Some current Access NYC opportunities include:
Transcribing audio and video content to make it accessible for people who are deaf or hard of hearing
Conducting email and phone outreach to cultural institutions, arts organizations, disability service organizations, and advocacy groups about
Project Access for All initiatives
Researching and writing short blog posts about the disability rights movement, key figures in the disability and arts community, events, and other
topics of interest for the Access NYC Newsroom.
For Arts Organizations and Cultural Institutions
You already do so much to make your community a more lively and fulfilling place to live. What can you do to add diversity to your audience, form fruitful partnerships, and make your institution even more welcoming to people of all abilities?
Become a Project Access NYC Partner Organization
Add your events to the Mayor's Office for People with Disabilities Community Calendar
Add your events to special interest community calendars.
Connect with other cultural institutions and disability organizations via Google+ and LinkedIn. Find partners and resources for your dream initiatives, collaborate on projects for the ADA25NYC and future celebrations, and find the audiences you've been looking for in the disability community. There are discussion groups for numerous interests, disciplines, and, of course every borough
Publicize your access programs to a national audience by adding your organization to the Project Access for All National Registry of Accessible Arts and Recreation.
Discover accessibility tools, training materials, research, and more shared by organizations across the country- and add your own- on the Project Access for All Cultural Access and Inclusion Resource Center.
For Disability Service Providers and Advocacy Organizations
How can you engage your organization and your constituents with the arts and the cultural life of New York City? Here are some places to start:
Become a Project Access Partner Organization.
Add your events to the Mayor's Office for People with Disabilities Community Calendar, and discover events that would interest your patrons. Each event will include details about accessibility, transportation, and ticketing.
Have ideas to share with cultural institutions and arts organizations? Collaborate with other disability organizations and cultural institutions via Google+ and LinkedIn. There are discussion groups for many interests, audiences, and disciplines. We need you to start discussions in your community. Search for Project Access, all LinkedIn groups will show up, and you can join or request admission to any groups you wish.
Share your resources and best practices in working with people with disabilities on the Project Access for All Cultural Access and Inclusion Resource Center.
For Students
College, high school, and motivated middle school students can apply to become interns and fellows, access envoys, or project access next fellows. You can work within your school or in your community. It may be possible to receive high school or college credits if your school agrees to participate.
To sponsor a Fellow, please email: elisabeth.axel@projectaccessforall.org
Learn More
If you have ad blocker active, it will only open one tab. Undo ad blocker to allow for this link to work correctly.