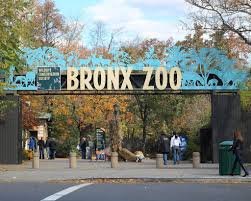 Facility Access Information
Café / Restaurant
Café/Restaurant is wheelchair accessible
Wheelchairs Available
A limited number of manual wheelchairs is available for rental at each entrance on a first-come, first-served basis.
Accessible Restrooms
Some restrooms are accessible
Family/Unisex Restroom
Family / unisex restroom available (wheelchair accessible)
Family/Unisex Restroom Location
Guest Relations in the Admin. West building, next to the sea lion pool.
Segways
Segways Not Allowed
Sitting Area Location
Sitting areas are located throughout the park.
With 265 acres of parkland home to more than 4,000 animals, there's plenty for all our guests to experience and enjoy. An Accessibility Map is available on site and onlineto help facilitate your visit by providing general information on the accessibility of zoo grounds and exhibits. Please use it along with the Bronx Zoo Map for complete information regarding exhibits and rides.