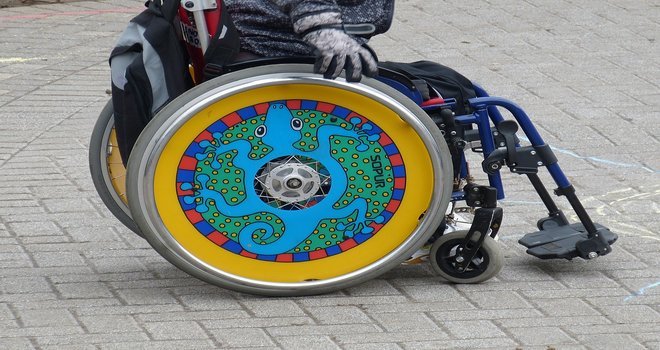 This month was full of city parades. Not only that, two weeks ago, the Gay Pride parade was enhanced by the Supreme Court's gay-marriage decision, but also on Friday, another parade was held, celebrating the U.S women's soccer team. The Disability Pride Parade, hosted by New York on Sunday completed the parade month. The event, supporting people with disabilities, had more than 3,000 participants using wheelchairs, canes and guide dogs.
Regarding the number of people with disabilities, it seems that about 800,000 New Yorkers are disabled; according to the advocacy group, Center for Independence of the Disabled, New York.
People with Disabilities Cheering and Chanting
The fact that people with disabilities unfortunately tend to be underrepresented in diversity initiatives is well known. This is one of the reasons why seeing the pride parade can be more overwhelming than imagined.
People holding high signs marched down Broadway on Sunday, in the city's first Disability Pride parade. The atmosphere was more than celebratory.
However, even if this event is desirable, those in the parade, as well as the rest of the people, are aware of the problems that remain, particularly when it comes to employment, housing, discrimination and accessibility.
When addressing the crowd at the inaugural NYC Disability Parade, the Mayor Bill de Blasio showed how proud he was of the city for being a national leader in supporting rights for disabled people.
25th Anniversary of the Americans with Disabilities Act
An important presence at the Pride Parade had the former Senator Tom Harkin. He was the Iowa Democrat who, 25 years ago, sponsored the Americans With Disabilities Act. The purpose of it is to improve the life of people with disabilities, aiming to guarantee them equal opportunities and rights. He proudly said that he is not going to retire from trying to help people with disabilities integrate with society, even if he retired from the Senate.
Disability Pride Month
July is designated as Disability Pride Month and in honor of the 25th anniversary of the Americans with Disabilities Act, there were and are many other events specially created for New Yorkers with disabilities.
Read more at Clapway: http://clapway.com/2015/07/13/people-with-disabilities-cheered-and-chan…
Follow us: @Clapway on Twitter | Clapway on Facebook